Fullsize Professional Grade Truck Bed Liner
Spray On Professional Grade Bedliner For Full Size Truck
Choose from our professional grade truck bed liner options to ensure proper coverage in a DIY kit.
Select from any of our standard truck bedliner colors below to get started.
Details of Your Current Visit
Get Your Full Size Truck Bed Properly Covered With Professional Grade Bedliner Protection!
This Professional Grade Truck Bed Liner DIY kit applied on an 8-ft truck bed gives you a professional thickness of 125 mils. Compare to Rhino Linings and Line-X professional spray bed liner jobs. Spray Lining and Coatings brand bedliners provide the same adhesion and abrasion resistance as these top national brands in a convenient DIY bedliner kit.
Designed for Tough Jobs
This Full Size Professional Grade Spray in Truck Bed Liner is designed for applying directly to your truck bed or truck body but are great for other equipment as well. Other parts such as inner fenders, under body, and chassis are also easily done with any texture for long term lasting durability.
Variations:
Soft, Medium, or Hard Texture Based on Your Preferences
Smooth, Orange Peel, Coarse, to Rough Profile
Anti-stick or Slip-proof Finished Surface
Color Variations Available For Any Purpose
Protects From:
Rust
Corrosion
UV damage
Impact damage
Extreme temperatures
Cures rapidly to a liquid-proof seal.
---
5 1/2 Sprayable Gallons of 100% Solids Material With This DIY Kit!
No one else gives you this much with a standard kit - Compare Top DIY Bedliner Kits From Our Competitors
What You Get With Your Full Size Professional Grade Truck Bed Liner Kit:
Sprayable Material for a Full Size Truck at 125 mils Thick
Complete Texture Control From Smooth to Orange Peel to Rough
Professional Quality UV Stable Standard Colors
Professional Grade HV Spray Gun
Easy Mix Metal Proportioned Canisters
Simple Directions to Achieve Variable Texture Based on Individual Needs and Application
Live Applicator Support Available 24 x 7
Your Choice of Standard Colors
Choose from any of our standard colors, or select your truck bed from our custom colors to personalize to your specific needs.
Custom Color Options Available
See our Custom Color Bedliner Kits to choose from a wide variety of bedliner color options.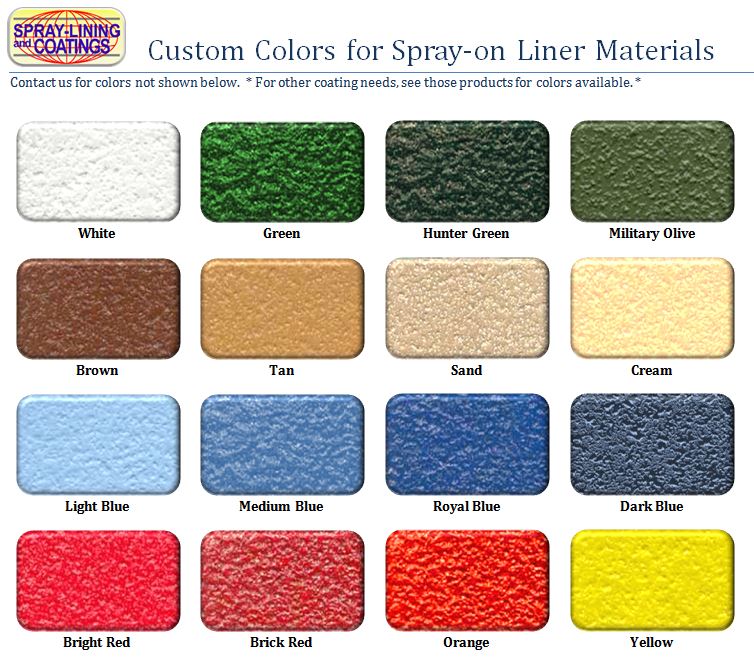 Applicator Support Available
Make sure you do a superior job. Read our General Questions and Answers section to find out common solutions. Need more support?
Auto Body Shop or Business Owner?
The SL&C Dealer model is a non-franchise relationship with local shops and business owners. We are helping local businesses enhance their existing business and enter new markets. Learn More About Dealership Opportunities
Additional information
| | |
| --- | --- |
| Weight | 47 lbs |
| standard-colors | Black, Dark Grey, Light Grey, Medium Grey |