Spray Lining and Coatings Provides Clear Comparisons to Competition Products
Whether your protective coating requirement is for DIY bedliners, koi ponds, trailer coatings, garage floor, or "dealer only" high performance coatings, SL&C provides clear comparisons to help you decide. We help you clearly understand the differences in product types, quantities provided, and equipment options to make the best choice. Take advantage of our experience with the links provided on this page (or through the menu options above) to learn more about not only Spray Lining and Coatings products, but the competition as well.
We are adding to this page regularly, so if you do not find an up to date review on your current protective coating need, contact us directly for qualified information about other coating products. We are always glad to provide information not only about Spray Lining and Coatings products, but our competition products as well. You can call our sales and tech support teams 24 x 7 at 1-855-545-4900.
US Manufacturers In:
Alabama, California, Delaware, Florida, Georgia, New York, Ohio, South Dakota, Texas
Support Hours  (Eastern U.S.)
Mon: 7am – 6pm
Tue: 7am – 6pm
Wed: 7am – 6pm
Thur: 7am – 6pm
Fri: 7am – 6pm
Sat / Sun: 7am – 11am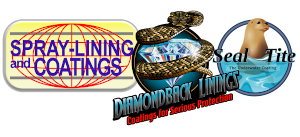 Get In Touch