Compare Herculiner to Spray Lining and Coatings DIY Truck Bed Liner With Actual Facts
Background on Herculiner
Herculiner is made by Old World Industries for Peak Auto Products, and is a very prominent bedliner in the retail world. It's distributed by many of the top retailers in America, and can be found on the shelves of Walmart, along with many auto parts stores. For this reason, we would like to provide a few details about this key player and see how they stack up to Spray Lining and Coatings DIY truck bed liner products.
In order to truly calculate the coverage of any truck bedliner (or any other coating product), you need to consider a few facts which many manufacturers hide. We will address a few key points in this article to shed some light on the facts.
Type of Coating
Herculiner is made from Polyurethane and finely ground rubber additives. It is a single part product, and no mixing is required. While this can sound appealing to the average DIY individual, ANY single part coating (paint or otherwise) means you need to consider a few things. All single part products "dry" instead of curing, and contain water or VOCs to do so. They are also ALWAYS more subject to breakdown from gasoline or other chemicals than plural (2 or more part) products. Herculiner contains Xylene as the liquid base which will evaporate as it dries.
Other than the lack of durability, there are some significant things to consider with respect to using this DIY product you should be aware of. According to Herculiner's MSDS information, the Xylene content is 29%. This solvent is not only flammable, but contains some significant health risks when inhaled.  This product also contains 5% Isocyanates, which have safety risks as well but are not part of this review. The percentage of Xylene isn't discussed in product descriptions for this product, but is not only a significant safety factor, it is also critical to considering the product coverage as well.
Herculiner True Coverage
When any coating dries, it loses volume by evaporation of the water or solvents which made it liquid to begin with. When volume is lost, the product thins as a result. As that relates to this truck bed liner product, you will loose 29% of the original thickness as it dries. That fact is entirely ignored in the coverage claims advertised. Herculiner advertises that their product will cover 55 – 60 square feet at 31 mils, but even that claim doesn't hold up to the facts. For 60 square feet at 31 mils, 1.16 gallons are required, not 1 gallon as claimed. When you factor in the evaporation of solvents, 1.63 gallons are required to get the 31 mils that are claimed.
It's important to get actual facts about the product, and recommendations which are reliable when considering the true cost of applying Herculiner to your truck bed. In the case of this product claim, 31 mils would be far thinner than any professional applicator would recommend. Also, most truck beds are in the 80 square foot range. See our Truck Bed Calculator to get accurate coverage requirements for your truck bed. We recommend 63 mils for any truck truck bed protection of lasting endurance. A full size truck would require 4.42 gallons when considering evaporation to get that coverage if using Herculiner. At a sale price of $79.99 per gallon ($99 per gallon commonly found), this product would cost $355.56 to apply proper thickness for a full size truck.
Method of Application
In addition to both the low quality of this product, and the high "real" cost, the application method should be considered. While a roll on bedliner might sound good, the actual facts are the opposite. Polyurethane products are always less capable of thick application. They tend to sag more on vertical surfaces than SL&C brand products. This means that more coats will be required in order to achieve any true protection. In the case of spray on application of 2 part products, this is not as critical since you can apply a second coat before the first coat is fully cured (usually about 1 – 2 hours).  Any roll on product (or 2 part product being rolled on) will need to fully cure or dry before being able to accept a second coat. The roller would dislodge the soft first coat otherwise (making a mess).
We always recommend spray on application of our SL&C brand products, but if you absolutely must roll on a truck bed liner, you will find our products more economical and of professional bedliner quality. Our poly-hybrid and polyurea truck bed protective products are chemical and solvent resistant. They are also always 100% solids. You will lose no volume to drying since they all cure into a long lasting truck bed protective coating. You can apply a much thicker coating in one application with full consistency and texture control using Poly Powder additive as well. Spray Lining and Coatings DIY truck bed liner products average less than $70 a gallon while providing a far better product with no loss from evaporation.
Get in touch with SL&C at 1-855-545-4900 to learn more about true bedliner product cost for DIY projects!
NOTE: Our comparisons and data are taken from their own claims and documentation, so we believe the information to be accurate, but please get in touch if any errors are identified.
US Manufacturers In:
Alabama, California, Delaware, Florida, Georgia, New York, Ohio, South Dakota, Texas
Support Hours  (Eastern U.S.)
Mon: 7am – 6pm
Tue: 7am – 6pm
Wed: 7am – 6pm
Thur: 7am – 6pm
Fri: 7am – 6pm
Sat / Sun: 7am – 11am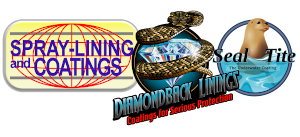 Get In Touch