How Does Monstaliner Compare to Spray Lining and Coatings DIY Spray on Truck Bedliner Products?
Overview of Monstaliner
In general, Monstaliner can only be applied up to 40 mil thick according to their own information and generally requires 3 coats. With 30% VOCs and only 70% solids, any individual coat will dry to about 2/3 the original thickness. When compared to Spray Lining and Coatings brand 100% solids products, you require 1.43 gallons of Monstaliner for the same dry film mil height as 1 gallon of our bedliner coatings.
How about the coverage claims for Monstaliner DIY kits?
While they claim an 8 foot pickup would be coated with 2 gallons, their own math doesn't add up. They state that 1 gallon covers 80 sq ft at 14 mils dry film thickness, and that an 8 foot pickup can be "completed" with 2 gallons of Monstaliner. An average 8 foot truck bed is approximately 90 – 95 sq ft if not covering the rails. Using the lower of the numbers (90 sq ft), 1 gallon would end up 12.44 mil thick, and 2 gallons would end up with 24.88 mil thick. Even using their own recommendation of 40 mil, this is far less than required for truck bed protection.
Using Spray Lining and Coatings brand bedliner products, the same 2 gallons cures to a 36 mil thickness. We recommend truck bed protection be applied the same thickness as the professionals apply (63 mil), and would not advise this thin an application, but it is approximately the recommended maximum thickness Monstaliner suggests. Whether applying professional thickness, or general use protection, 2 gallons of our products covers as much as 2.86 gallons of Monstaliner. There's also no "maximum recommended thickness", so you can control your application as you choose.
How about varying the texture… can it be done?
Our DIY kits include 2 grades of powder additives (fine and coarse) which you can vary for texture throughout the coating. You can also use the powder additive to thicken the product so that a coarser spray pattern will not self-level. By using a thicker coating, you can more quickly get a thick application and texture exactly as you like. Monstaliner is generally rolled or applied with an undercoating gun after thinning significantly since these guns cannot apply a truly thick coating. The roller doesn't allow much control over texture, and the thin spray self-levels too much for texture.
How about application method… is it simple?
As stated, Monstaliner recommends roller (simplest, but not much texture control). They also suggest thinning and applying with an undercoating spray gun. All Spray Lining and Coatings brand DIY products can be applied by brush, roller, undercoating gun, or texture hopper. We recommend the texture hopper simply because it provides the best and quickest overall application. Our complete instructions and available phone support help make the job relatively simple (even for the inexperienced do-it-yourself individual).
How fast can you start using your truck after applying the coating?
After final coat, SL&C products are generally 85% cured in about 8 – 10 hours at temperatures above 70 degrees. We recommend 24 hours for light duty use, and 48 hours for heavy duty use. The cure rate depends primarily on temperature and may vary significantly in lower or warmer environments. Compare this to Monstaliner recommendations of minimum 48 hours for light duty and 7 – 10 days for full service use.
What is the cost to coat my truck bed with Monstaliner or Spray Lining and Coatings?
When comparing any DIY kit, you need to be sure that you are comparing the same thing. Monstaliner sells a 1 gallon kit without any rollers or other equipment for $136.60 (equals $273.20 for 2 gallons). Since the product is 70% solids, the 2 gallons equals 1.4 gallons of SL&C bedliner (100% solids). Our 1 Truck Bedliner Without Spray Gun is $109.45 and includes 1.75 gallons of sprayable product when combined with the powder additives as directed. Using our recommendation of 63 mils application, our Full Size Truck Spray on Bedliner (same as Compact Professional Thickness kit) ** With Spray Gun ** is $265.25. That's less for 3 1/2 gallons of 100% solids bedliner with spray equipment than 2 gallons of Monstaliner! To get the same coverage, you would require 5 gallons of Monstaliner at a cost of $683.00, and still have no spray equipment.
Comparison Summary:
Hopefully, this article has been able to provide some helpful information when comparing our coatings to Monstaliner. If you would like to learn more, please feel free to visit our Frequently Asked Questions About Spray on Coatings page, or get in touch by phone, email, or contact form submission.
US Manufacturers In:
Alabama, California, Delaware, Florida, Georgia, New York, Ohio, South Dakota, Texas
Support Hours  (Eastern U.S.)
Mon: 7am – 6pm
Tue: 7am – 6pm
Wed: 7am – 6pm
Thur: 7am – 6pm
Fri: 7am – 6pm
Sat / Sun: 7am – 11am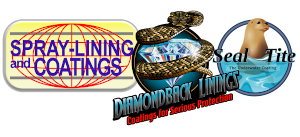 Get In Touch