Colored Jeep Spray Coating Inside
Colored Spray On Coatings for Jeep, truck & SUV Interiors
Protect the inside of your vehicle with custom color. This DIY package includes a more flexible version of our bedliner coatings for additional sound and vibration deadening.
Select from our most popular custom colors for Jeep interiors in our product description below, or get in touch for additional color options.
Details of Your Current Visit
3.3 Gallons of Custom Color Spray on Liner
Our Jeep Custom Color Kit Includes:
Material for Inside of Jeep (approx. 80 sq ft)
Select From Any of Our Custom Colors
Professional Spray Coating Hopper Gun
Simple Directions to apply, vary texture, Technical Data Sheet
No other company in or out of ebay, anywhere on the net, or wholesale provides more actual product per dollar spent than we do Compare
Spray-Lining and Coatings DIY Spray on Colored Bedliner is professional grade product that is simple to install and covers more sq. footage at the proper thickness than all the competition.
Reduce Costs / Simplify Applications. Spray-Lining and Coatings specializes in spray-on truck bed linings and is the overall spray-on linings and protective coatings solution you've been looking for.
---
Color Choices for Jeep Interior and Exterior Coatings: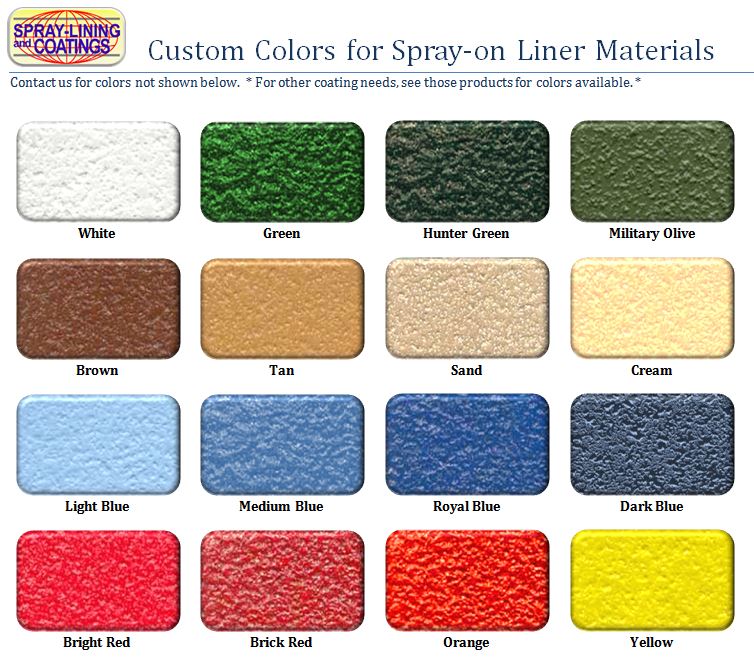 Email info4@spray-lining.com or call 1-855-545-4900 to request a custom color or for color choice information.
---
Spray Lining and Coatings spray in TRUCK BED LINER is designed for applying directly to your Jeep (with proper prep). Other parts such as inner fenders, under body, and chassis are easily done with any texture you need; just follow directions for thick slip-proofing, soft medium or hard or Anti-stick behavior. It protects against rust, corrosion, UV damage, and extreme temperatures. It dries rapidly to a liquid-proof seal.
Contact us today with any questions or to learn more about Spray-Lining and Coatings business opportunities and dealerships.
Call 1-855-545-4900 or Email: info4@spray-lining.com
Additional information
| | |
| --- | --- |
| Weight | 26 lbs |
| custom-colors | Brick Red, Bright Red, Brown, Cream, Dark Blue, Green, Hunter Green, Light Blue, Medium Blue, Military Olive, Orange, Royal Blue, Sand, Tan, White, Yellow |