Custom Quote for Jeep Protection Kits
Call us at 1-855-545-4900 for a Custom Quote based on your needs!
Details of Your Current Visit
Your Jeep is Covered to Exact Specifications
When you want to put the extra effort into coating your Wrangler, Cherokee, Wagoneer or CJx, Spray-Lining and Coatings has the solution for you. Contact us through our quote form or call us directly at 1-855-545-4900 to have a professional applicator work you through your custom coating job.
Hard Core Solutions for your Jeep
A superior solution to Rhino Linings, Line-X, Scorpion and others. Our kit's special forumulation protects you completely.
Customized For You
For the interior we give you a soft textured water proof and chemical resistant coating that will last the lifetime of your vehicle.
For the exterior of your jeep, we give you a hard abrasion and ding resistant formulation
We give you specialized products to protect the exterior of your Jeep from scrapes, dings and corrossion. Our internal mixture gives you an anti-slip, non-corrossive coating that will last a lifetime. Compare
---
100% quality control.
Standard colors: Black | Dark Grey | Medium Grey | Light Grey
Custom U/V stable colors:
A complete array of custom color choices are also available for just a little more. Specify color in your quote request. Some of our most popular colors are below.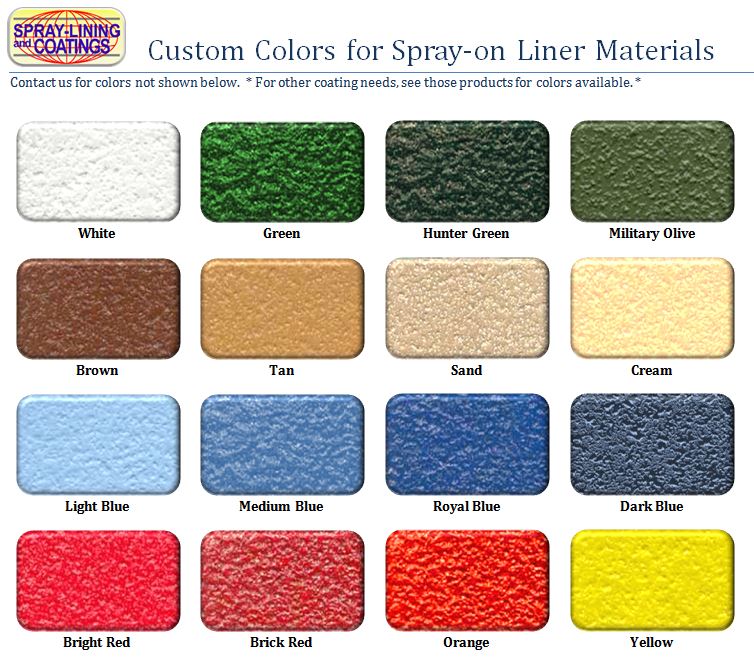 ---
Spray-Lining and Coatings spray in Jeep Liner is designed for applying directly to the inside and outside of your Jeep. Other parts such as inner fenders, under body, and chassis are easily done with any texture you need; just follow directions for thick slip-proofing, soft medium or hard or Anti-stick behavior. It protects against rust, corrosion, UV damage, and extreme temperatures. It dries rapidly to a liquid-proof seal.
Contact us today with any questions or to learn more about Spray-Lining and Coatings business opportunities and dealerships.
Call 855-545-4900 or  Email: info4@spray-lining.com