Spray On Bedliner Kit for up to 8 Trucks
Our least expensive dealership startup truck bed lining kit. Get started with your truck bedliner business with great discounts to get up to speed quickly and economically.
Choose from any of our standard colors below or contact us for custom quotes.
Details of Your Current Visit
Get Up To 8 Trucks Covered With Professional Grade Bedliner at a Discount!
This 8 bed truck bed liner kit covers multiple full size trucks at commercial use grade. Spray-Lining and Coatings brand DIY Spray On Truck Bedliner is a professional grade product that is simple to install and covers more sq. footage at the proper thickness than all the competition.
Need U/V Stable Colored Bedliner? -  Check out our Custom Colored Bedliner
Reduce Costs / Simplify Applications.
Spray-Lining and Coatings specializes in spray-on truck bed linings, and is the overall spray-on linings and protective coatings solution you've been looking for.
Cover Over 400 sq. ft of Vehicle Surface @ Standard Truck Bedliner Thickness!
This Professional Shop or Dealer Kit Includes:
Over 14 Gallons of 100% Solids Truck Bed Liner - More Coverage Than 24.5 Gallons of Raptor!
Complete Application Instructions
Professional Grade Texture Hopper Spray Gun
Available 24X7 Technical Support (no outsourced generic support)
No other company in or out of ebay, anywhere on the net, or wholesale provides more actual product per dollar spent than we do  Compare DIY truck bedliners
---
100% Texture and.
Standard colors: Black | Dark Grey | Medium Grey | Light Grey included at no additional cost
C
o
l
o
r
c
h
o
i
c
e
s
Contact us directly at 1-855-545-4900 to select a larger kit with one or more of our custom colors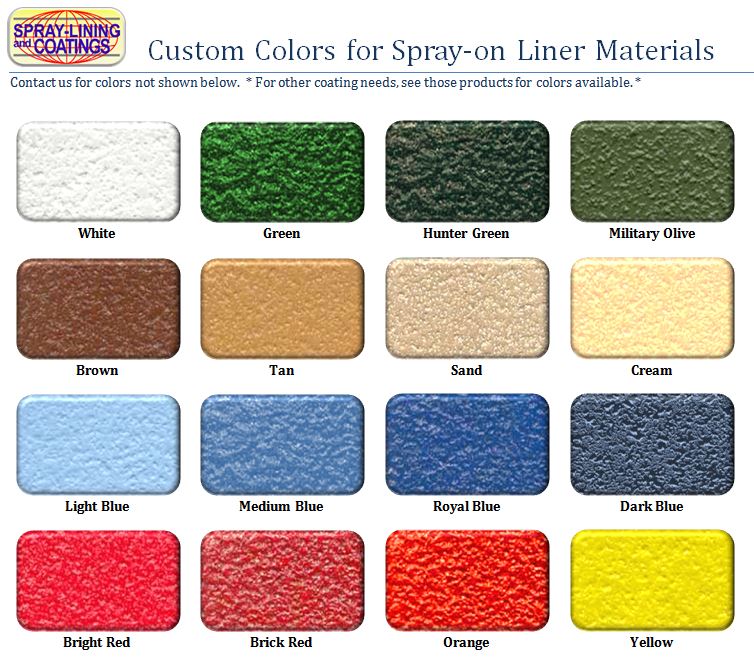 Contact us directly to request a custom color or for additional color choice information.
---
Spray-Lining and Coatings spray in TRUCK BED LINERS are designed for applying directly to your truck bed. Other parts such as inner fenders, under body, and chassis are easily done with any texture you need. Simply follow directions for thick slip-proofing, soft, medium, hard, or anti-stick behavior. It protects against rust, corrosion, UV damage, and extreme temperatures, and cures rapidly; providing a long lasting professional quality bedliner.
Contact us today with any questions or to learn more about Spray Lining and Coatings business opportunities and dealerships.
Call 1-855-545-4900 or Email: info4@spray-lining.com