Spray On Bedliner Kit for up to 3 Trucks
This bedliner kit is best choice to protect multiple compact truck beds, or a full size pickup at professional grade thickness.
Select from our standard colors below (examples in the description on bottom of this page).
Details of Your Current Visit
Get Your Truck Covered With Professional Grade Bedliner
This kit gives you plenty of material to spray on a professional grade bedliner for an 8-ft truck full size truck bed including the rails plus extra material for high impact areas.  This Full Size Truck Bed Liner kit provides a large 90 square foot truck with an average of 100 mils. This thickness is comparable to a drop in liner without the drawbacks of plastic liners. You get more material than any other DIY bed liner kit for the price, and no loss of mil height due to evaporation!
Designed for Tough Jobs
This Spray in Truck Bed Liner is designed for applying directly to your truck bed, but can be applied to other equipment or surfaces as well. Parts such as inner fenders, under body, and chassis are easily done with any texture for long term durability.
Variations:
Coarse to Orange Peel or Wavy Texture
Smooth to Rough Profile
Soft, medium or hard
Anti-stick or Slip-Proof
Protects From:
rust
corrosion
UV damage
extreme temperatures
Kit Includes:
5 1/2 Total  Sprayable Gallons of 100% Solids Truck Bed Protection
Covers an average 8ft bed @ 125 mils - Professional Thickness
Correct amount for a 8ft truck bed liner when put to rugged use - Don't be fooled by other DIY Kits
Professional Spray Gun Included
Variable Texture Control
Dries rapidly to a liquid-proof seal.
---
Over 5 1/2 Sprayable Gallons
No one else gives you this much per kit - Compare Bedliners
Applicator Support
Make sure you do a superior job. Read our General Questions section to find out common solutions. Need more support? Call us at 1-855-545-4900.
Auto Body Shop or Business Owner?
Spray-Lining and Coatings brand products are promoted for their dealers locally. Product dealerships are a non-franchise relationship with local shops and business owners. We are helping local businesses enhance their existing business and enter new markets.Learn More
---
Standard colors: Black | Dark Grey | Medium Grey | Light Grey
C
o
l
o
r
c
h
o
i
c
e
s
Custom colors are also available. See our Custom Color Bedliner Kits, or call us directly for an exact color match.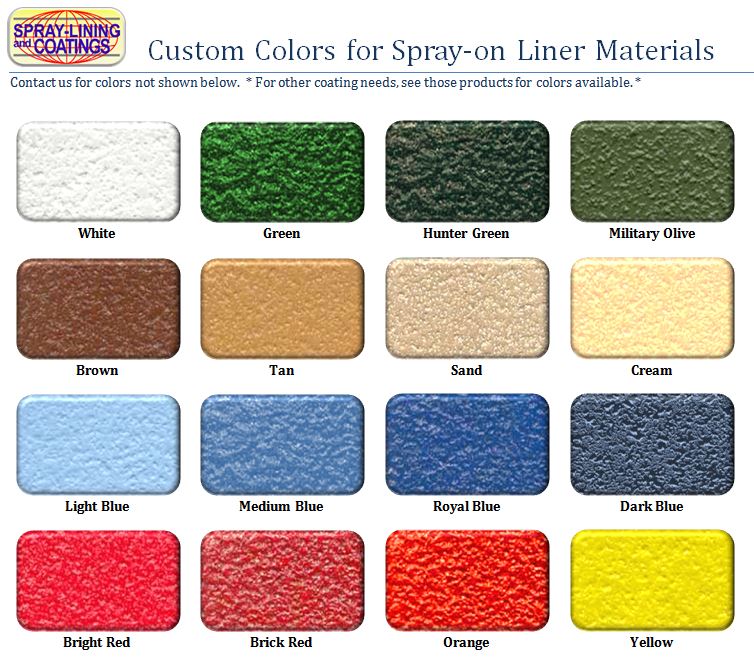 Contact us directly to request a custom color or for additional color choice information.
Simply follow directions for thick slip-proofing, soft, medium, hard, or anti-stick behavior. It protects against rust, corrosion, UV damage, and extreme temperatures, and cures rapidly; providing a long lasting professional quality bedliner.
Email info4@spray-lining.com or call 855-545-4900 for more information
Additional information
| | |
| --- | --- |
| Weight | 47 lbs |
| standard-colors | Black, Dark Grey, Light Grey, Medium Grey |