Protective Trailer Coating Standard – sq ft
Protective Coating for Trailers by Square Foot
Order our professional quality protective coatings for your trailer by the square foot (80 foot minimum)
Simply select from our Standard Color options below, and enter the desired number of sq ft in increments of 20 sq ft.
** Contact us for additional color options **
Details of Your Current Visit
Protect Your Trailer With Professional Grade Coatings
Spray-Lining and Coatings™ DIY Spray Trailer Coatings provide corrosion and abrasion protection on box trailers, open trailers, enclosed trailers made of all materials.
This coating kit provides standard duty protection of 60 mils @ your actual project square footage (80 square foot minimum).
NOTE: Increments of 20 sq ft required due to container size limitations.
Kit Includes:
custom quantity @ 60 mils thick
Professional Quality Hopper Spray Gun
Directions to achieve variable texture
Reduce Costs / Simplify Applications.
Spray-Lining and Coatings spray in PROFESSIONAL TRAILER COATINGS are designed for any metal or wood surface that will be exposed to sand, salt, abrasion, dings, road hazards, flying debris, etc. Other parts such as inner fenders, under body, and chassis are easily done with any texture. just follow directions for thick slip-proofing, soft medium or hard or Anti-stick behavior.
Our Professional Trailer Coatings provide long lasting abrasion and corrosion protection for your trailers and other utility vehicles. These coatings are meant for serious applications and can be used in any environment.
---
100% quality control.
Standard colors: Black | Dark Grey | Medium Grey | Light Grey
Custom Color Options
Spray Lining and Coatings has a wide variety of color options available. Get in touch with us today for a custom color trailer protection package.
Sample colors: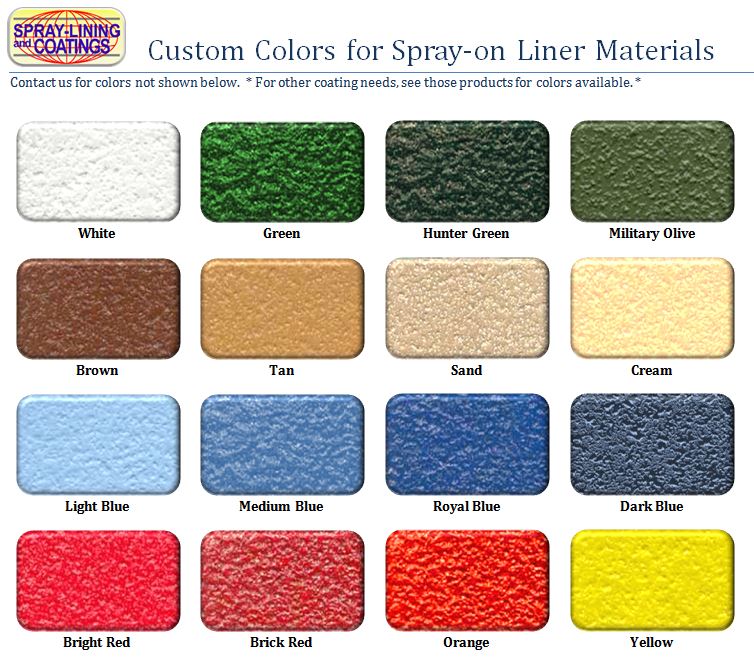 ---
Contact us today with any questions or to learn more about Spray-Lining and Coatings business opportunities and dealerships.
1-855-545-4900 info4@spray-lining.com
Additional information
| | |
| --- | --- |
| Weight | .34 lbs |
| standard-colors | Black, Dark Grey, Light Grey, Medium Grey |