Dealer Package Spray Bedliner for 15 Beds
Best choice for business startups who want to start spraying truck beds.
Choose from our standard colors below (examples in product description on the bottom of this page). Or call us directly to fully customize a dealer startup package for your needs.
Details of Your Current Visit
15 Truck Professional Bedliner System For Dealer Startups
Our 15 bed professional grade truck bedliner kit is designed with dealers and small shops in mind. This discounted kit can easily cover 15 compact trucks, 10 full size pick up trucks, or multiple large commercial use truck beds. For even larger kits at heavily discounted prices, contact us directly.
Spray Lining and Coatings Spray On Bedliner is a professional grade product that is simple to apply. Stop sending cash out the door because you do not offer coatings services in your shop. If you've been burned by other bed liner dealerships, you'll understand why we are the best alternative:
No Minimum Orders
No Equipment Requirement
Professional Applicator Support
Broad Range of polyureas/hybrids
Local Marketing for your Company
Reduce Costs / Simplify Applications.
This kit proves that our materials are a superior solution to Speedliner, Scorpion, Rhino Lining and others. Get dealer grade training and professional support.
28.75 Gallons of Truck Bed Liner Protection and 2 Professional Quality Spray Coating Guns Included With This Kit!
Use Spray Lining and Coatings bedliner products to improve profitability for your shop. Learn how to use it, evaluate the dry time, cure-time and physical properties before starting your dealership. With your dealer start up purchase, you get professional grade products and professional grade support for every job!
---
Standard colors: Black | Dark Grey | Medium Grey | Light Grey
C
o
l
o
r
c
h
o
i
c
e
s
Custom colors also available. Contact us directly to select from the colors below, or for exact match color options available.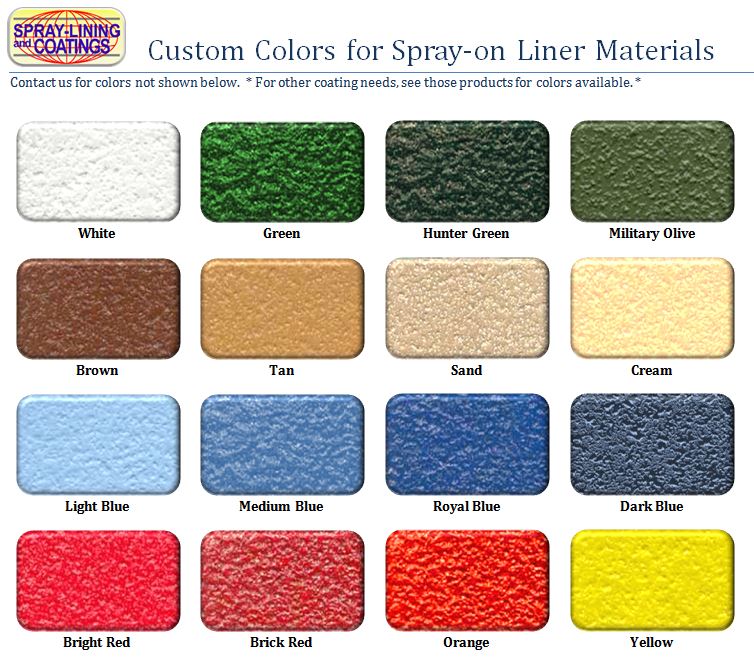 Contact us directly to request a custom color or for additional color choice information.
---
Spray-Lining and Coatings spray in TRUCK BED LINERS are designed for applying directly to your truck bed. Other parts such as inner fenders, under body, and chassis are easily done with any texture you need. Simply follow directions for thick slip-proofing, soft, medium, hard, or anti-stick behavior. It protects against rust, corrosion, UV damage, and extreme temperatures, and cures rapidly; providing a long lasting professional quality bedliner.
Contact us today with any questions or to learn more about Spray-Lining business opportunities and dealerships.
Call 1-855-545-4900 or Email: info4@spray-lining.com
Additional information
| | |
| --- | --- |
| Weight | 242 lbs |
| standard-colors | Black, Dark Grey, Light Grey, Medium Grey |