Rhino and Line-X Alternative Cartridge Start-up Packages
Rhino / Line-X Alternative Polyurea Cartridge System Start-up Package
Get started applying Rhino and Line-X quality polyurea today with our economical business start-up complete system packages.
Select from our 60 cartridge spray on bedliner kit or save money with our deluxe 120 cartridge kit. Both packages include our SL&C RLA Cartridge Spray Gun so you can get started right away. Choose from our most popular dealer colors (black or grey) or contact us directly for other color combinations at no additional cost.
Details of Your Current Visit
Spray Lining and Coatings Rhino / Line-X Alternative Cartridge System
Spray-Lining & Coatings Cartridge Systems: Your Solution to high priced, complex polyurea spray systems offered by national brands.
The SL&C Cartridge System, Rhino-Line-X Alternative sets faster than any cartridge spray system. Aromatic or aliphatic formulations are available. With quick cartridge change, bed liner cartridge system is easiest and tack-free in 6 seconds.
Our cartridge based polyurea system offers the performance and durability of polyurea at the price of a hybrid. For applications requiring great tensile strength, cut and abrasion resistance, overall toughness and fast dry time, this system is the right protective coating package for the job.
With 100% solids and no VOC, this was always the safest, quickest drying cartridge system for truck bed liner or any other polyurea job.
SL&C RLA Polyurea Cartridge Products Compete With: Rhino Pro, Indy Coatings, Line-X, Armadillo/Marvel Coatings, Scorpion Coatings, Toff, or any North American vendor of any Cartridge System
Available under DIY, single job usage or as dealer / applicator of SL&C Polyurea and general coatings' jobs
Lower priced than any DIY coating, one or two-part paints sold via eBay, Amazon, or private website.
Many suppliers often pose as high-quality product vendors, but cannot compare in price or quality to SL&C Rhino / Line-X alternative polyurea products.
Best solution to high price of entry as Line-X Franchising, or Dealerships sold under Rhino Linings, ArmoThane, Arma Coatings, Scorpion Coatings, Amerigard, actually all polyurea "bedliner" venders
Save time and money on your next truck bed liner job with our convenient two-part cartridge system.
Spray Lining and Coatings Rhino / Line-X Alternative Cartridge System provides many advantages over traditional spray on bedliners including:
Low start-up cost—No expensive equipment to buy
No maintenance & no clean up—Just throw away the cartridges
Rapid cure—Dries in 12 seconds
Flexible—Lightest spray-on polyurea system available
Will not warp, crack, or peel
Available in a variety of colors for the same low price
Environmentally friendly—100% solids, VOC Free
24/7 Technical and Sales Support 
Economical business startup packages available to begin or expand your truck bed lining business.
Spray Lining and Coatings offers two economical business startup packages to help you get started applying SL&C RLA coatings right away with minimal investment. Both packages include everything you need to use our cartridge based polyurea using your compatible air compressor equipment. These bed liner business start-up kits are available in black or grey at the same low cost.
For larger packages, other colors, or any specific needs, please contact SL&C sales support 24 X 7 at 1-855-545-4900. We can provide an affordable custom package to suit any truck bedliner or other protective coating need.
With the SL&C™ spray-on cartridge system you can start coating automotive, marine, industrial or commercial jobs today. Originally developed for the spray-on bedliner industry, the SL&C™ 100% solids coatings are the answer to truck bedliner, rock guard or under coating applications. You can apply a professional quality 100% solids coating using our SL&C™ Cartridge System without investing all the money for expensive machinery.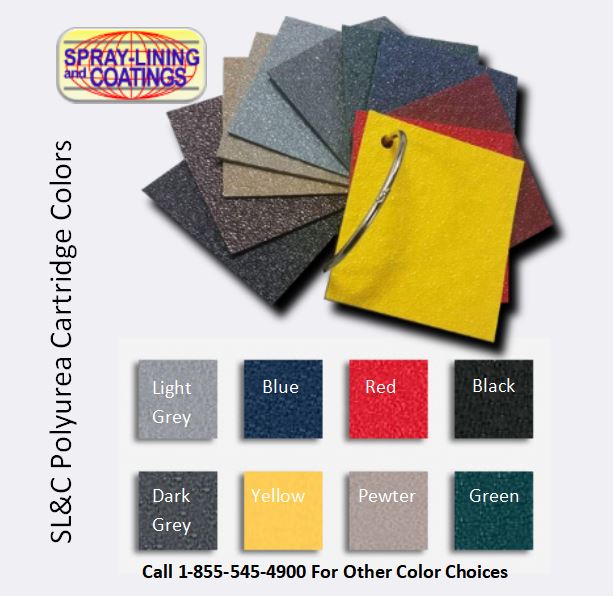 Available in a wide variety of colors.
With our polyurea spray cartridge dealer startup kits, you can select from a wide array of colors. Simply contact us directly to customize a package with your needs in mind.
Additional information
| | |
| --- | --- |
| Weight | N/A |
| Dimensions | N/A |
| Start-up Package | 60 Cartridge Kit – Black, 60 Cartridge Kit – Grey, 120 Cartridge Kit – Black, 120 Cartridge Kit – Grey |