Tintable Bed Liner Kit no Gun
Tintable Bed Liner Kit Without Spray Gun
This kit is the same kit as our regular tintable bedliner, but without a spray gun. You can add more bedliner to a regular tintable kit by selecting the number of additional beds you need to cover.
Details of Your Current Visit
Professional Tintable Bedliner - We Have the Right Solution
Customize with your own automotive grade paint (color tint not supplied with this kit)
Or apply a clear spray on bed liner to let your existing paint shine through
True truck bed liner protection with complete color selection options
Provides a UV stable Coating over existing or new colors - Protect Your Investment
1.5 Gallons of Clear Tintable Bedliner
Kit Includes:
1.5 gallons of clear bedliner
Simple Directions to apply, vary texture, Technical Data Sheet
24x7 support available to ensure success
Spray-Lining and Coatings DIY Spray Bedliner is professional grade product that is simple to install and covers more sq. footage at the proper thickness than all the competition.
---
100% quality control.
C
o
l
o
r
c
h
o
i
c
e
s
You control the color with this tintable truck bed liner kit. You can even do an exact match with auto grade paint from your local auto paint supply shop. Some of our more popular truck bed custom colors are displayed below.
If you would prefer to have Spray Lining and Coatings supply any of our featured color kits, select our colored bedliner kit instead.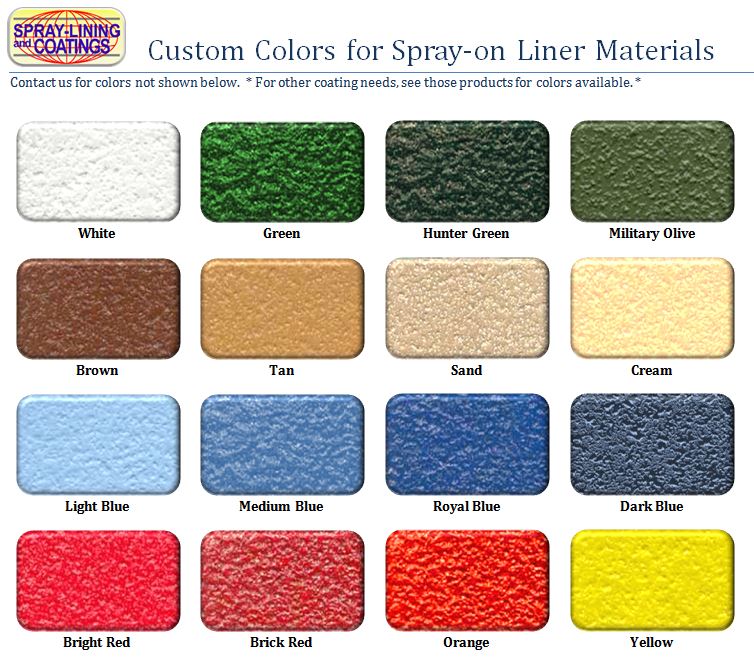 * Colors shown are for examples only.*  You can customize this kit to your specific needs.
---
Spray-Lining and Coatings spray in TRUCK BED LINERS are designed for applying directly to your truck bed. Other parts such as inner fenders, under body, and chassis are easily done with any texture you need. Simply follow directions for thick slip-proofing, soft, medium, hard, or anti-stick behavior. It protects against rust, corrosion, UV damage, and extreme temperatures, and cures rapidly; providing a long lasting professional quality bedliner.
Contact us today with any questions or to learn more about Spray Lining and Coatings business opportunities and dealerships.
Call 1-855-545-4900 or Email: info4@spray-lining.com
Additional information
| | |
| --- | --- |
| Weight | 17 lbs |
| standard-colors | Black, Dark Grey, Light Grey, Medium Grey, Clear Tintable |