Marine Grade Boat Hull Coating by the Square Foot
Spray on Marine Grade Coating for Any Size Boat Hull
Choose between our standard colors, or add custom color to your boat hull with this DIY Color Boat Hull Kit.
Select from a standard or custom color below and enter the sq. ft desired to order.
** Call us directly for a color not listed **
Details of Your Current Visit
Get Your Boat Exterior Hull Covered With Marine Grade Coatings
Spray-Lining and Coatings DIY Marine Spray Coatings are professional grade products that beat the competition on price, coverage and thickness.
This DIY  Boat Hull Coating Kit provides a flexible durable hull protection with a smooth anti-stick coating to endure the toughest of conditions. In addition to our standard colors, by can choose between a wide variety of custom colors (or even color match).  With complete texture control, our do-it-yourself hull coating kits provide a simple solution to produce true professional results every time.
What You Get With Your SL&C Boat Hull Coating Kit:
Sprayable Material for Your Boat Hull by the Square Foot @ 45 mils thick (135 square foot minimum in increments of 25 sq ft)
Flexible, glossy bedliner poly hybrid for docking / hull protection
Marine Grade Hard - Low Flex - Smooth Texture Parts A, B, C
Professional Quality UV Stable Color Pigment
Professional Grade Hopper Spray Gun
Easy Mix 1 Quart Metal Proportioned Canisters
Simple Directions to Achieve Variable Texture Based on Individual Needs and Application
Live Applicator Support Available 24 x 7 by Appointment
Lighter & Stronger Than Fiberglass Resin - 100% Buoyant 
For other size boats, or boats larger than 38 ft, be sure to consult with our Live Professional Applicator support team (1-855-545-4900) for accurate measurement and pricing. If you want to do the best job possible for your investment, you'll use Spray-Lining and Coatings™ and see the difference.
Tough Jobs made Easy -- with Spray-Lining and Coatings
Marine-Grade UV Protection - 100% Adjustable Texture From Anti-Stick Smooth to Anti-Stick Orange Peel Profile
Reduce Costs / Simplify Applications.
Spray-Lining and Coatings specializes in spray-on boat coatings and is the overall spray-on linings and protective coatings solution you've been looking for.
No other company in or out of Ebay, Amazon, anywhere on the net, or wholesale provides more actual product per dollar spent than we do. Compare SL&C marine coatings to our competition or get in touch to learn more.
---
100% quality control.
Custom Colors: Choose from our standard or custom colors below, or contact us directly for a specialty color not displayed.  ** Images displayed are from our deck coatings. Actual texture for hull coatings is recommended smooth to wavy (orange peel) and variable with simple instructions included. **
C
o
l
o
r
c
h
o
i
c
e
s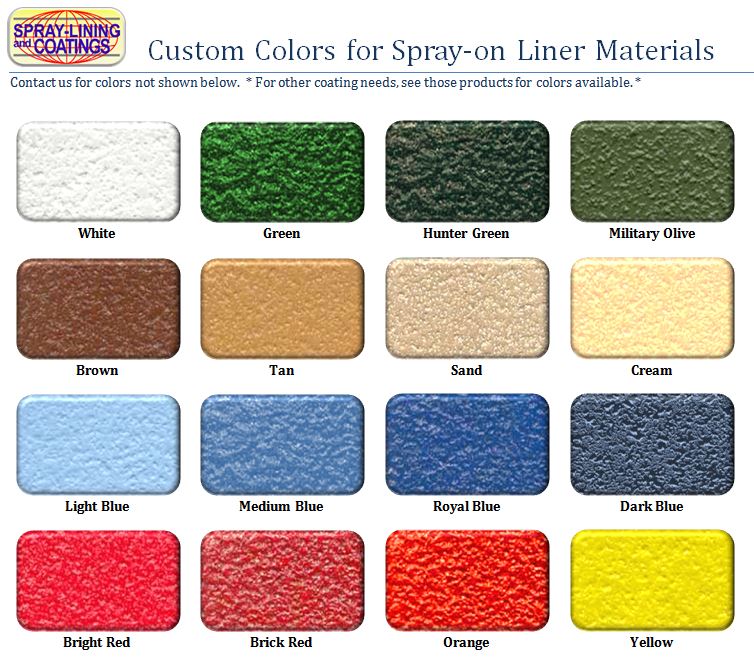 Email info4@spray-lining.com or call 1-855-545-4900 to request a custom color or for color choice information.
---
Spray-Lining and Coatings spray on Marine Boat Coatings are designed for applying directly to your boat hull and interior. Any texture can be accomplished. It dries rapidly to a liquid-proof seal, and protects against rust, corrosion, UV damage, and extreme temperatures.
Specialty Coatings For Boat Manufacturers Like:
Mako
ProLine
WellCraft
Boston Whaler
Sea Nymph
Cobia
Key West
And More..
Contact us today with any questions or to learn more about Spray-Lining and Coatings business opportunities and dealerships.
Call 1-855-545-4900 or Email: info4@spray-lining.com
Additional information
| | |
| --- | --- |
| Weight | .25 lbs |
| custom-colors | Black, Dark Grey, Medium Grey, Light Grey, Brick Red, Bright Red, Brown, Cream, Dark Blue, Green, Hunter Green, Light Blue, Medium Blue, Military Olive, Orange, Royal Blue, Sand, Tan, White, Yellow |