Advanced coatings for specialized applications
Our coatings aren't limited to truck beds, boats, floors, and vehicles. Diamondback Linings has specialized coatings available from the best manufacturers in the coatings industry. By partnering with a variety of major manufacturers, we can provide a wide array of coatings from spray on, to casting products. Each of these manufacturers focus on ensuring their products are improved as technology changes.
Some of the industry details about our coatings
By partnering with a broad range of industry leaders, we can offer coatings for almost any application. We can also ensure accurate technical advice or other recommendations are provided. Whether related to equipment, products, or applications, we will take the time to research your specific needs.
If you have exacting demands for tensile strength, elongation, fire resistance, application method, application equipment, or any other restrictions, let us know. Chances are… We have a product to meet those specifications. If we can't provide a coating directly, we will try our best to recommend other manufacturers who may be able to assist.
Our spray-on polyurea coatings are:
• ACI Certified
• ANAB- Accredited
• ANSI/NSF 61 Potable-Water Certified
• ASTM E-84 Class 1 Fire Rated
• ASTM Stone Impingement/Corrosion
• Resistance Certified
• CAFO Certified
• FAC Certified
• FDA Approved
• Fungus Resistance Certified
• HP White-Verified
• Incidental Food Contact Certified
• ISO 9001:2008 Certified
• MSHA-Accepted
• NACE Certified
• NSF Certified
• Safe Walking Surface Certified
• SSPC Certified
• USDA Approved
Provide us some details about your specialized coating needs so we can research available options. Give us a call, or send us a bit of information with our Custom Product Request form.
US Manufacturers In:
Alabama, California, Delaware, Florida, Georgia, New York, Ohio, South Dakota, Texas
Support Hours  (Eastern U.S.)
Mon: 7am – 6pm
Tue: 7am – 6pm
Wed: 7am – 6pm
Thur: 7am – 6pm
Fri: 7am – 6pm
Sat / Sun: 7am – 11am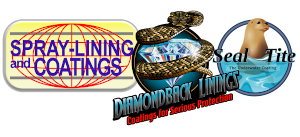 Get In Touch