Koi ponds can pose unique challenges when it comes to avoiding or repairing leaks. Often constructed out of materials which don't stand the test of time, each pond needs to be considered individually. In some cases, the substrate simply needs sealing with a lasting product, while others may need a new, strong waterproof membrane altogether. Spot repairs, concrete sealing, and creating a durable waterproof membrane often have different requirements.
More About Seal Tite
Our Seal Tite koi pond coatings have been developed to cover a wide variety of applications from new build, to repair of existing ponds. By varying the flexibility and consistency of our basic product line, customized packages are available to suit the needs of your specific application. Seal Tite can be provided at any level of flexibility from rubbery to hard based on the type of repair or construction required.
For the strongest, most durable product available in a manual mix product, we highly recommend our Seal Tite Ultra product. The adhesion, tensile strength, and flexibility of this addition to our pond coatings produces the closest match to our professional application polyurea products. One advantage of Seal Tite Ultra over polyurea products is less sensitivity to inherent moisture content. It can be applied to sub-surface concrete structures without primer in most cases.
We also offer our pure polyurea products for koi pond applications to our dealers and consumers when large applications which justify the equipment cost are involved. Spray equipment (cartridge spray gun) is available at an affordable cost of approximately $500 which allows small businesses to start applying polyurea products without the high cost of proportioners. Those businesses with high or low pressure proportioners will find that our products (available in drum sets or pail sets) are competitively priced as well.
Environmentally friendly–100% solids, VOC Free coatings available for distribution to all 50 states and Canada.
Browse some of our most popular Koi Pond Coatings Kits, or Get in Touch to learn more.
US Manufacturers In:
Alabama, California, Delaware, Florida, Georgia, New York, Ohio, South Dakota, Texas
Support Hours  (Eastern U.S.)
Mon: 7am – 6pm
Tue: 7am – 6pm
Wed: 7am – 6pm
Thur: 7am – 6pm
Fri: 7am – 6pm
Sat / Sun: 7am – 11am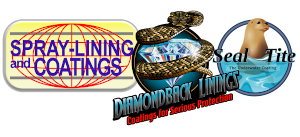 Get In Touch