Seal Tite Water Feature and Pond Coating Repairs and Protects From Leaks
Seal Tite brand coatings have been developed by SL&C as professional grade DIY koi pond and water feature coatings that boast similar specs to polyurea without VOCs or isocyanates. These revolutionary products are the affordable permanent coating for koi ponds and other water features or fountains.
Seal Tite is a non-toxic poly hybrid coating made in the U.S.A specifically designed for the Koi pond and water feature industry. It is used to repair or construct water features and ponds with a more natural look than EPDM liners. Using Seal Tite coating eliminates unsightly folds or creases found with rubber sheet liners.
Seal Tite is used for waterproofing all surfaces found in water features such as Koi ponds, pools, fountains, aquariums, salt water tanks, hydroponics, streams, waterfalls, reflecting pools, container tanks, etc. It is easily applied by brush, roller, or spray gun. For most applications, a single coat application is all that is needed for proper coverage with our total consistency control formula.
With Seal Tite pond coating, your fountain or water feature will be virtually maintenance free with a surface that algae can be easily wiped off of and is safe for fish and plants. This waterproof protective coating offers both strength and flexibility unmatched with the other DIY pond coatings available.
Over time, hairline cracks can form in concrete, mortar or grout joints. Seal Tite bridges these hairline cracks and provides the best and most durable protection possible in a coating. Seal Tite has been specifically designed to bond to porous or coarse materials such as concrete, wood, stone, most metals, brick, most ridged plastics, tile and many more. With a tensile bond strength stronger than concrete, your single coat of Seal Tite will provide true lasting protection and waterproofing for any pond or fountain.
Spray On Polyurea Hybrid Seal Tite Pond Coating Benefits:
No scratches or tears from large decorative rocks or other items
Form fitting for superior finish
Seamless installation means no leaks
Easily make repairs of existing ponds, even under water
Any volume or dimension pond is easy to handle
Seal Tite Product Features:
USDA approved for fish (koi and farm), water containment, food contact, water features and fountains
Water proof formula suitable for use in a wide range of environments from hot to freeze/thaw conditions
Specifically designed for underwater use and to be non-toxic and fish and plant safe
No VOC's (volatile organic compounds)
100% solids coating
Seamless, stops leeching, impermeable non-abrasive smooth surface
Extremely flexible and abrasion resistant
Self-priming formula allows for reliable adhesion for a finished surface that is easy to maintain
Can be put into service in as little as 24 hours and cures even underwater
Can be applied to any constructed surface made of wood, metal, or stone as well as most plastics
Can be applied over other coatings to repair leaks or prevent deterioration
Environmentally safe and provides a completely inert environment for fish
Long lasting & will not peel or deteriorate
Works with block, brick & concrete without additional primers
Instant & complete pH balance & pond stabilization
Economical & cures fast even under water
Easy to apply, can be brushed, rolled, or sprayed
Available in 4 standard colors at no additional charge
4 additional stock colors, and unlimited custom colors available
Professional quality results every time
Contractor Benefits With Seal Tite Coating:
Commercial and industrial job support
New Construction, Re-Construction, Repair
Any mil height can be achieved
Alternative formulas for unique jobs or cost requirements
Support Services for Your DIY Pond Coating or Repair Project:
Easy to follow instructions to ensure proper installation
Knowledgeable technical support available 24 x 7 for all jobs from DIY to professional applicators
Custom packages available for specific needs
Material Basics About Seal Tite Coatings:
Polyurea is a popular but often expensive coating for ponds and aquatic life containment. Our Flexible Poly Hybrid is a lower priced solution that yields excellent results. Unsurpassed puncture resistance and long life span makes this an ideal material for the small or large DIY coating jobs. Our Seal Tite DIY pond coating kit consists of 3 components which are easily mixed and applied based on your specific requirements.
Parts A, B, and C are 3 individual components which are pre-measured to mix. Mixing bits, all containers, spray gun or roller (depending on application method) are available if required.
Seal Tite DIY pond lining systems are a one-time application intended for no further maintenance. Compared to any available DIY product, EPDM or plastic pond liners, Seal Tite is a  superior "lining system". See our Koi Pond DIY Kit Comparison Review for more information.
Contact us directly for questions INFO4@SPRAY-LINING.COM   1-855-545-4900
US Manufacturers In:
Alabama, California, Delaware, Florida, Georgia, New York, Ohio, South Dakota, Texas
Support Hours  (Eastern U.S.)
Mon: 7am – 6pm
Tue: 7am – 6pm
Wed: 7am – 6pm
Thur: 7am – 6pm
Fri: 7am – 6pm
Sat / Sun: 7am – 11am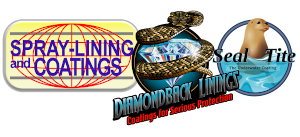 Get In Touch