How to Estimate the Amount of Coating Materials Required to Properly Cover 3 Dimensional Objects
When ordering spray on or other coating materials for proper coverage, you must first determine the square footage of any surface you need to protect. This applies to coatings from Spray Lining and Coatings, or any other manufacturer. We have developed some useful tools initially designed for our dealers, but these can be equally beneficial to DIY customers as well. Originally published on our dealer website, you can take advantage of them by following these links:
Remember that once you determine the square footage, you will have to consider the thickness of your coating requirements. Depending on your application, this can range from 15 mils to 125 mils on average. Never accept a generic answer regarding coverage from any coating manufacturer. Always ensure that the coverage is equal to the protection level you are expecting.
When using the surface calculator to estimate surface of objects where all sides are to be coated (drums, boxes, etc.), be sure to double the measurement for lower surface. Our pond and pool surface calculator does not add that surface area since it will not be coated in those applications.
Contact Spray Lining and Coatings at 1-855-545-4900 for more information. We will be happy to advise you regarding proper protection requirements for any coating project whether with our products, or our competitors.
US Manufacturers In:
Alabama, California, Delaware, Florida, Georgia, New York, Ohio, South Dakota, Texas
Support Hours  (Eastern U.S.)
Mon: 7am – 6pm
Tue: 7am – 6pm
Wed: 7am – 6pm
Thur: 7am – 6pm
Fri: 7am – 6pm
Sat / Sun: 7am – 11am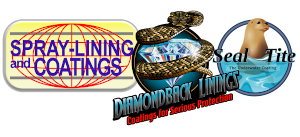 Get In Touch