Technical Questions and Answers for Spray on Truck Bed Liners and Other Spray Coatings
Spray Lining and Coatings often receives questions regarding our products (and competitor products as well) which require a more technical answer than those of a general nature. In this article, we will provide answers to those questions about spray coatings in general and truck bed liners or vehicle spray on coatings for other uses. To help ensure truly professional grade spray on truck bed liner or other coating project results, learning a bit more is often of benefit. The technical advice and recommendations on this page will help.a
Please feel free to ask you own question in the comment section below. With your help, we can provide even more efficient assistance to others who demand professional grade truck bed liner results.
Technical Questions and Answers for Spray Lining and Coatings Products

 
 
Q:

 What is a Spray-able Gallon of Truck Bedliner?

A:

Like many urethanes or  other hybrids, chemical reaction and fusion occurs to produce the cured coating. – Our SLPV Plural Component Lining consists of liquids (parts A & B- Resin/Binder) and solids (PART C- polymer micro-powder).  High grade polyurea and poly-hybrids are excellent for bed liner with highest adhesion. Texture control is within the process between liquid and solid components; expansion at full cure plus emulsified (not fully melted) solids.  The SL&C Product Line consists of the only poly-hybrid coating with completely controllable texture (hardness), profile (flat / slight orange peel / coarse), any UV stable color and clear. Less and more expansion equate to harder and softer textures (or more to less adhesion) respectively.

These materials, once fully cured, yield an average of 45% more final product by volume than competing DIY kits.  Example using materials in a standard 6' bed liner kit:

Most bedliner products are mixed from 1:1 to 2:1 (by volume) as powder : liquid.  For standard adhesion and thickness, use 1.5:1 as powder to liquids.
In this case, .75 gallons of liquids mixed with 1.5 part solids will = 1.875 gallons.
Our standard truck bed liner DIY kits include enough powder to mix up to 2:1 ratio (or about 2.3 gallons total) per "truck bed".

Other calculations for total volume of finished bed liner kit Base coat + top coat to achieve thicker bed with greater adhesion –  In this example, a base coat comprised of 1:1 as solids to liquid for higher adhesion rate.  In conjunction, a second layer applied at 2:1 is used to achieve a thick top layer where adhesion is not as much of a concern between same materials (bed liner attached to bare metal versus 2nd layer of bed liner bonded to first layer of bed liner)

How expansion is calculated for 2 layer bed line:

Liquids for layer 1 is .75 gallons/2 = .375 gallons
Solids for layer 1 is .375 gallons of polymers
Total for layer 1 = .75 * expansion rate of .18 = .885 gallons
Liquids for layer 2 is .375 gallons
Solids for layer 2 is .75 gallons
Total for layer 2 = 1.125 * 1.25 (expansion) = 1.4 gallons

Total Spray-able gallons = 2.29 gallons

Q:

 What is the Right Temperature and How to Achieve it?

A:

Our Polyhybrid coatings work best when applied with an ambient temperature above 70 degrees Fahrenheit. –  If you are applying our materials in cold weather we recommend using heating fans or heat lamps to achieve the proper temperature range.

Heat lamps – If using heat lamps the best approach is to expose the spray area until the general surface is the right temperature. Once the product has been sprayed it is a good idea to move the lamps in an circular motion to keep the applied heat in an even pattern. If you don't, you will see an inconsistent pattern as the product cures at a different rate directly under the light.

Floor or fan Heater – We suggest using this type of equipment over lights because you get better distribution of heat with this hardware.

Q:

 Do I Need a Primer For my Spray On Truck Bed Liner?

A:

This answer applies to our coating on ANY surface – Spray Lining and Coatings SLPV coatings will adhere well to practically any surface. However, you may need primers for the following conditions:

Plastic Fenders, Bumpers, etc
Bare Metal

Bare metal preparation – Whether it's a truck bed, trailer, container, or other object, if you have a corrosion-free bare metal surface you will need an AUTO OR MARINE-GRADE 1:1 EPOXY PRIMER. There are many available on the market. The key is that it is 1:1 Epoxy Primer.

Plastic Fenders, Bumpers, etc – If you have worked with coating plastic surface you know that without the proper prep, coatings DO NOT adhere for any significant period of time. We recommend using House of Kolor AP-01 adhesion promoter to prep a plastic surface for our coatings.

The key to using this product is to apply the coating shortly after use of the adhesion promoter. The adhesion promoter works by making the plastic surface tacky with a chemical reaction. While the surface is reacting it is most capable of accepting a bond with another material. So, it's important to use our coating shortly after treating the surface with the appropriate adhesion promoter.

Q:

 Why Are Some Other DIY Spray Bed Liner Kits Cheaper?

A:

Spray Lining and Coatings Always Gives you the Right Amount of Coating – Most DIY Products advertise a "1 gallon truck bed kit". Over time this has caused many consumers to think that "One gallon equals one truck bed". This is not correct. We believe it is a disservice to the public to think this way. If you read our Q and A about Bed Liner thickness, you'll understand that it takes at least 2 gallons to do a basic 6 ft bed, and at professional thickness it requires 4 gallons.

Spray Lining and Coatings DIY Kits start at 2.3 gallons of spray-able bed liner. Plus you get a real professional spray bed liner gun, not a cheap schutz gun. With this better gun you can control texture and thickness very well. This allows you to customize the look of your spray coating and apply a better consistent coat which helps with your level of comfort and the finished product.

Quality coatings provide quality bed liner results – In addition to these factors, most DIY Bed Liner kits are 1 part roll on system. Spray Lining and Coatings is a 2 part polyhybrid coating that is used by professionals in the industry. We are the only company besides Scorpion Coatings that offers a professional product to the DIY consumer.

Q:

 How Much Bed Liner Spray Product Do I Need?

A:
The Calculation to Determine Proper Coverage For Any Surface is Relatively Simple. – Here's the calculation for any truck bed liner which is sprayed on: 1 gallon of any liquid covers 1604 sq ft at 1 mil (1/1000″). Therefore:total sq ft / (1604/mil height) = Gallons required to cover a specific area at a specific mil height. Average Mil Height : Generally, for low stress areas you can go half the thickness of professional grade coatings. Therefore, if you are doing 20 sq ft @ 125 mils and you want to do 10 sq ft @ 60 and 10 sq ft @ 125 mils, your average = 125+60/2 = 185/2 = 92.5 average mil height This is important when calculating actual material requirements. For floors, you do NOT want to use less than 30 mils when applying a protective coating. The mil height is required to provide the "protection"…… Be careful when reading other vendors product information because they typically do not expose this information in order to provide a "better price".
Q:

 What Texture and Thickness is Best for External Vehicle Body Coating?

A:

Depending on your specific use, spray on coatings may vary widely in texture and thickness. – Following the recent trend of applying bed liner to the outside of your vehicle saves you money and shows of the ruggedness of your auto. Doing these applications with a DIY kit requires a little bit of practice for a few reasons:

It's the OUTSIDE of your vehicle!! You don't want to screw up
You want to apply the perfect texture for washable yet rough look
You want great adhesion for long term functionality
Colors require a little bit more skill than black or grey

General rules for proper texture and thickness on external body bed liner – The things you want to control are total weight of product, durability, texture and color. So, the general rules (in order to keep this short) are:

Keep your coating at < 40 mils (<1/25″ of an inch). Thicker application is generally reserved for truck beds since they need to be impact resistant. Exterior bedliner application is more for abrasion resistance.
For durability you do not want to spray thinner than this because it will be too easy to chip/crack because of the coating being too thin
For texture you are going to want to work on creating a FINE orange peel, which does NOT look like a bed liner when you inspect closely. The idea is that you want the dirt to be falling off of the vehicle. The more aggressive the texture, the less washable and the dirtier the vehicle will be. So, think SMOOTH with Little BUMPS.
You can do either a top coat or color all the way through the coating. If you are doing exact color matching, you will be using our Crystal Clear Bed liner as a top coat. This will attach to the more course underlying grey bed liner that is applied first to give you your texture and to keep cost down.
If you are tinting all the way through then typically, color matching will not work. In this case you have a range of colors to choose from. You can custom tint also, but there is NO WAY that the dry color will match a paint code because the tint must be added to a powder that is colored already.

Q:

 

Will This Stick to Plywood or Concrete?

A:
Designed to etch through painted surfaces, SL&C Bedliner bonds int wood, fiberglass, most plastics, cement, stone, ceramic,and all metal (excluding chrome and galvanized steel). Plastic adhesion promotor is recommended on hard plastics. Few surfaces may require scuffing.
Q:

 What are the Suggested Compressor Settings to Apply a Spray-on Truck Bed Liner?

A:

What is the right CFM and PSI for my DIY Bed Liner? – Different Products require different settings. Spray Lining and Coatings SLPVH-100 (which is the basic spray bed liner), requires a minimum of 5 CFM @ 90 PSI, but we recommend your compressor be able to provide 7 CFM @ 120 PSI to ensure you are able to adjust to suit your particular application. You can spray it with lower pressure settings if thinned more. Lower quality products often require less CFM @ PSI because they are inherently thinner which means less of "bed liner texture" and more of a paint-type finish.

Our cartridge based pure polyurea bedliner REQUIRES a minimum of 10 CFM @ 120 PSI to apply properly. Also required for this product is an air dryer for the compressor air supply.

We have the most versatile spray bed liner that allows you to achieve a broad range of textures and finishes for any of your project needs.

View Spray Lining and Coatings DIY Products

Top Spray Lining and Coatings Competitor DIY Spray Bedliner Compressor Settings:

SCORPION X02:
Air Requirements: 7 cfm @ 40 psi Operating Range: 15-40 psi Air Supply Connection: 3/8″
AL'S LINER:
You need a minimum of 7 cfm capacity and 25 psi at the gun. You do not want to exceed 55 psi at the gun. This will generate too much over spray.
6 CFM @ 65 psi 4.5 SCFM @ 90 PSI, 5.5 SCFM @ 40 PSI
DURABAK:
9 CFM @ 50 PSI Schutz gun with 60 PSI
LINERXTREEME:
60-75 psi – No CFM Requirement to be found
SPEEDLINER 1000:
11 CFM @ 90 PSI

Q:

 How Thick are DIY Bed Liners Compared to Professional?

A:

Thickness of your DIY bed liner depends on which product you are talking about. – Most bed liners applied by professional bed liner applicators is applied at or above 60 mils. DIY bedliners are applied at 30 mils (which is 1/32 of an inch) at most with the kits available from our competitors. If you read reviews of Raptor, Al's and others you will see consumers state that they bought multiple kits. Some DIY kits actually provide less than 10 mils of protection.

A truly professional sprayed in bed liner is supposed to be 125 mils in thickness in high use areas and less on verticals. Some applicators may try and get away with applying less because they make more money and most people would not know the difference.

Spray Lining and Coatings products are produced to be applied at 63 or 125 mils throughout the entire project. We are the only company that offers a DIY system designed to compare with a professional sprayed bed liner like Line-X or Rhino Linings.

Q:

 Does Thickness Matter for ALL Types of Bed Liner?

A:

The simple answer is yes… thickness is a critical factor for proper truck bed protection.  – Any material will adhere and protect better if it is thicker. So, in a relative manner, thickness ALWAYS matters. Different materials may have comparable specs to each other at different thicknesses, but, it's not so significant that you could say, 'this material at 1/32″ is as strong and durable as that material at 1/2″'. It just doesn't work that way….

Now once you get into an area where two products are significantly different in behavior and comparable in strength at extreme thickness differences, you are simply talking about completely different materials. In these cases, thickness will not be the most important factor because the chemistry will be profoundly different between these materials and in many cases, probably not intended for the same purpose.

ABOUT THICKNESS – Companies can use thickness (or lack of thickness) as an exploit for the consumer. We don't mean directly either. Just by excluding the fact of the important of thickness, consumers are not allowed the opportunity to make the right decisions when buying DIY. That's why we talk about mil height all over the Net. We want you to have the best experience long term with your coating. We believe that this third element (thickness) is critical to DIY success.

At Spray Lining and Coatings, the long term results of your bed liner job, floor or marine application is far more important to us than selling you a DIY kit. Our products may seem more expensive than some low price kits, but that's because we are not "painting" a story for you. We give you the information straight.

Q:

 What is the Most Durable Spray on Bedliner?

A:

Bedliner durability is relative to applicator and preparation. –  But, for the sake of argument, a poly-hybrid in general exhibits better specs for adhesion, tear and impact resistance than polyurethane or aliphatic urethanes.

Applicator experience and prep is a huge factor in regards to longevity and perceived durability. Meaning that if the applicator is experienced enough, he can make a coating with lower specs than another last longer and in general than a better spec material applied by someone without the proper experience.

Take this into consideration when having a bed liner applied by a shop. If you are seasoned or have the support of the coatings manufacturer you may be able to produce the same if not better results than a professional company. Spray Lining and Coatings has the best support hands down for DIY systems. So, along with reasonable material prices, you get the information and support you need to finish your job with superior results.

Q:

 Does Spray Lining and Coatings have Anti-Stick Coatings?

A:
Spray Lining and Coatings SLPVH product line is designed to be versatile. – This allows the applicator to create protective coatings with a variety of characteristics from slip-proof to anti-stick. By using our "Part C" polymer powders in different ratios you can create high tensile strength anti-stick coatings for your specific application. You will use our recommended variation of poly to liquid (part A and B + R [flex] + C [powders]) plus a little bit of testing to get the perfect mix ratio for your application. Typical anti-stick coatings use a ratio of 2A : 1B flex + 1 part powder : 1 part liquid. The ratios and specific products can be varied to create the exact qualities desired.
Q:

 How do you Install Spray-on Truck Bed Liners?

A:
Spray-on truck bed liners are installed by using a paint spray gun on a clean and dry truck bed.  – Before beginning, it is important to wash the truck bed using a car soap that is free of any wax or other protectants that could affect the liner's adherence. Depending on the product and condition of the surface, additional prep may be required.  SL&C truck bed liner DIY kits are safe to apply without special facilities or safety considerations beyond normal precautions common to any spray application.
Q:

 What are Some Good Reasons to use a Spray-on Truck Bed Liner?

A:
Applying a spray on truck bed liner has numerous benefits over drop-in bedliners or other options. – A spray-on truck bed liner from Spray Lining and Coatings brand products permanently bonds to the truck to protect it against all weather conditions, scratching, chipping, fading and rusting. Our liners also provide a slip-resistant surface and help to muffle road noise unlike drop-in bedliners which are generally not slip resistant and often create additional noise.
Q:

 How Much Should you Spend to Spray Your bed Liner?

A:

Consider cost versus value when selecting a bed liner for your truck. – Spray Lining and Coatings recently contacted more than 200 spray-in bedliner installers by phone and asked for the cost to install a spray-in liner in a 2016 F150 (6.5′ bed, without tailgate step) and determined the following:

Average Line-X Cost: The Line-X installers quoted an average cost of $564.47
Average Rhino Linings cost: The Rhino installers quoted an average cost of $543.81

Spray Lining and Coatings provides DIY kits with comparable quality results available for approximately $350.00. With our DIY kits, you control the application completely from thickness, to texture, to color, any other aspect of your bedliner application.

Roll-on bed liners are often the most inexpensive truck bed protection on the market but generally provide only minimal true bedliner protection.  Herculiner for instance retails approximately $99.00 for a 1 gallon DIY application kit. But customer testimonials seem to indicate that customers find that multiple kits are required to even provide minimal coating. Even with the additional kits, the end results are never proper for professional bedliner application.

Spray-in bedliners are the most durable form of truck bed protection, but when selecting a DIY bedliner for you truck or vehicle exterior, brand really does matter. The products are not the same universally

Q:

 How do you Prepare Your Truck for Spray-in Bedliners?

A:

Preparation is key to a successful DIY truck bed application. – The most important step for preparing a truck for a spray-in liner is cleaning all debris and waxy or oily residue from the bed. Cleanup should happen during the initial preparation and then again after scuffing up the bed for the bedliner to adhere more directly to the metal if recommended for your specific application.

Leaving any loose debris under the spray on bedliner when it is first applied can create weaknesses in the liner, and it can also cause bubbling or cracking. After the cleaning and other prep is done, mask off the edges of the bed that are not being sprayed to prevent the material from getting onto the rest of the truck.

All DIY kits from Spray Lining and Coatings come with specific instructions to apply. Our technical support team is also available 24 X 7 for additional assistance at 1-855-545-4900 and customers are encouraged to call with any question before applying their bedliner or other spray on coating.
US Manufacturers In:
Alabama, California, Delaware, Florida, Georgia, New York, Ohio, South Dakota, Texas
Support Hours  (Eastern U.S.)
Mon: 7am – 6pm
Tue: 7am – 6pm
Wed: 7am – 6pm
Thur: 7am – 6pm
Fri: 7am – 6pm
Sat / Sun: 7am – 11am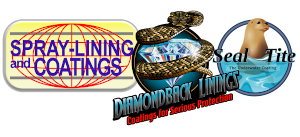 Get In Touch