WHAT ARE 100% SOLIDS COATINGS?
Buying solid coating products verses those with volatile fillers that evaporate lowers your overall cost and increases coating's quality.
What are we saying when we refer to 100% solids coatings? We often get this question from our customers, so this article is to help inform you when selecting a spray coating product. While 100% solids polyurea-hybrid coatings do provide many definite benefits, and are certainly considered a "must have" solution in a majority of scenarios, they're not always the only solution available. In some cases, relatively effective (and less expensive) options exist (particularly in the DIY market). Here we'll explain what 100% solids coatings are, why they're used, and why they're usually considered the best coating option.
100% SOLIDS COATINGS EXPLAINED
What does the 100% solids term refer to? By comparison, what would a 50% solid coating be?
When coatings are applied, two thickness measurements are to be considered to determine the product requirements for proper thickness. One is a wet film thickness (WFT) measured at the time of application, the other is a dry film thickness (DFT) taken after the coating has dried.
The percent of solids refers to the percentage of paint thickness that remains after the coating has finished drying or curing. This is the difference between the WFT and DFT. Generally, a percentage of the applied coating volume is lost and thickness is reduced during the drying process. To compensate, more coats must be added until the desired thickness is achieved. For example, a 50% solid truck bed lining would require two coats at 100 mils of thickness to achieve a DFT of 100 mils, whereas a 100% solids coating would only require a single coat.
Spray on Truck Bed Liners are notorious for shipping with lower solids. Similar are Pond or Koi Pond Coating products sold as DIY kits. In many cases you're paying for overpriced, volatile thinners used essentially as fillers.
This is not the case with 100% solids. They maintain the same level of thickness between the time they are applied and the time they have dried (cured in the case of SL&C coatings), hence the name 100% solids. This results in reduced application times in addition to improved product adherence overall in addition to lowered costs.
ZERO VOCS AND OTHER BENEFITS OF 100% SOLIDS COATINGS
For the reasons discussed above, 100% solids coatings require fewer coats to achieve the desired thickness level than other options.
This is a big draw for facility owners and managers who request them specifically most often. Fewer coats mean less chance of inter-coat adhesion problems and reduced time for the coating process, since there are no multi-step curing procedures in between coats. SL&C coatings can generally be applied to proper recommended thickness in one coat.
Also, a 100% solids poly-hybrid coating contains no volatile organic compounds (VOCs). Loss of thickness between WFT and DFT in lower solid coatings is due to the evaporation of solvents into the atmosphere as the coatings cure. These evaporating solvents (VOCs) can create dangerous environments in confined spaces and health hazards for workers. A lack of VOCs is often what makes 100% solids ideal for use as tank linings, or in shops were large numbers of coatings for railroad tank cars are applied.
Rapid drying times are another benefit of 100% solids. Often, drying times are so short that the coatings are sprayed from plural component systems, meaning the coatings are not mixed until the moment they are sprayed from the gun. They can then be walked over in a matter of hours. Reduced downtime and quick project turnarounds have serious appeal for owners who need their equipment back in service fast. In some cases, service tanks are back in use in a matter of hours rather than days.
As always, even with the best coatings products on the market, poor surface preparation can ruin a job which uses the best polyurea coating available. Skimping on surface prep will shorten the life of your coatings application. Choosing a product without the proper quality control safeguards in place can also threaten its effectiveness. Spray Lining and Coatings ensures strict quality control processes are in place for all SLC coating products, by SLC certified applicators as well as DIY job support.
CHOOSING BETWEEN 100% SOLIDS AND OTHER SPRAY COATING PRODUCTS
A 100% solid polyurea hybrid may be the best option for your project. It depends on a number of factors.
Before you choose any DIY or other professional grade coating, get in touch with Spray Lining and Coatings to discuss your project with a qualified coatings representative by calling 1-855-545-4900. We'll walk you through the entire process, from product selection and surface preparation to application and equipment recommendations.
US Manufacturers In:
Alabama, California, Delaware, Florida, Georgia, New York, Ohio, South Dakota, Texas
Support Hours  (Eastern U.S.)
Mon: 7am – 6pm
Tue: 7am – 6pm
Wed: 7am – 6pm
Thur: 7am – 6pm
Fri: 7am – 6pm
Sat / Sun: 7am – 11am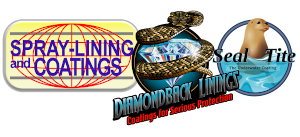 Get In Touch